DatabeatOMNI is cost-effective, simple, and suitable for a variety of businesses across multiple industries — from small companies to large corporations.
With DatabeatOMNI screen publishing software, you can tell the story of your brand, its people, and its history in a matter of clicks.
With features including images, videos, URLs, calendars, and social streams, there are endless ways to communicate with your target audience. But that's not all. By utilising external software tools, you can create digital signage content that's truly personal and guaranteed to grab attention in 3, 2, 1...
1. Databox:
Create KPI dashboards with the #1 data analytics platform
Databox is a popular data analytics platform that removes the stress of juggling multiple performance tools.
By displaying numerous metrics all in one view, you can glean the latest company insights at a glance. No cross-referencing or report-creating required — just action-orientated, meaningful data that you can use to inform future business decisions.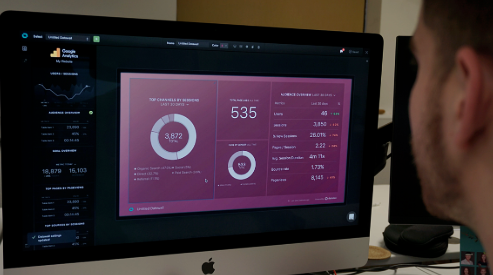 Where can I use Databox?
Databox is an intuitive and useful tool regardless of what industry you're in. However, where Databox really shines is in corporate communications — making it easy to report on sales figures, marketing performance, recently acquired customers, and much more.
Here's how Databox complements DatabeatOMNI:
DatabeatOMNI + Databox
With DatabeatOMNI and Databox combined, you can display dynamic dashboards on your digital signage screens across multiple office locations, sharing the latest company insights in seconds.
Here's how to use Databox in just five simple steps:
Set up a databoard and choose your template
Authorise your connected account(s)
Edit your data blocks
Add data blocks to your datawall
Customise your dashboard
To get started with Databox and bring your data to life, click here.
New to DatabeatOMNI? Click here to book a live demo and discover how digital signage can enhance your business.
Related Read: 6 Dashboard Tools for Visualising Your Data Through Digital Signage
2. Strea.ma:
Embrace the power of social media walls and content hubs
Strea.ma is an intelligent tool that collects posts from social media channels including Facebook, Twitter, and Instagram, allowing you to customise them according to your brand, and turns them into social media streams that you can publish on multiple screens.
The benefits of Strea.ma include increased audience engagement and improved brand awareness, as well as clear social proof regarding your brand's success and the ability to glean useful insights.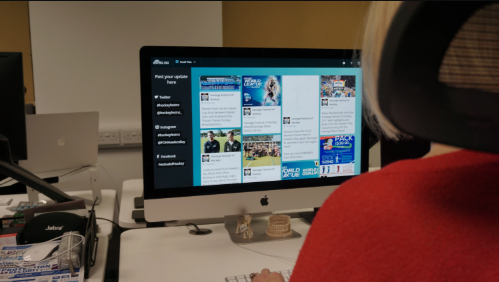 Where can I use Strea.ma?
The beauty of Strea.ma is its flexibility. From retail to restaurants and hospitality to corporate communications, social streams are a powerful way to engage your audience and make them feel part of a wider community.
Here's how Strea.ma complements DatabeatOMNI:
DatabeatOMNI + Strea.ma
Bringing DatabeatOMNI and Strea.ma together will allow you to enhance your digital signage content with social streams that inject personality, humour, and topical news.
Social streams are particularly impactful for boosting brand awareness and increasing customer loyalty, as conversations about what your business has to offer are positively encouraged.
Here's how to use Strea.ma in just three simple steps:
1. Strea.ma collects posts from popular social media channels
2. Add your unique settings and branding
3. Display your content on any screen
Ready to get started with Strea.ma and start embracing the power of social streams in your digital signage today? Click here to start your free trial.
New to DatabeatOMNI? Click here to book a live demo and discover how you can incorporate digital signage in your business.
Related Read: Ask Databeat: Digital Signage Integrations You Need to Know
3. Canva:
Collaborate and create unique graphic designs for free
Canva is a free graphic design tool that makes it easy to create logos, banners, images, and more.
In a world where we're exposed to thousands of different adverts on a daily basis, making your digital signage stand out with eye-catching imagery has never been more important.
Where can I use Canva?
Canva is a particularly versatile tool that works well in practically any industry. From retail displays to digital menu boards and educational signs to internal communications, Canva is the go-to tool for many organisations looking to enhance their digital signage.
Here's how Canva complements DatabeatOMNI:
DatabeatOMNI + Canva
With DatabeatOMNI and Canva combined, you can create eye-catching graphics for your digital screens that truly stand out.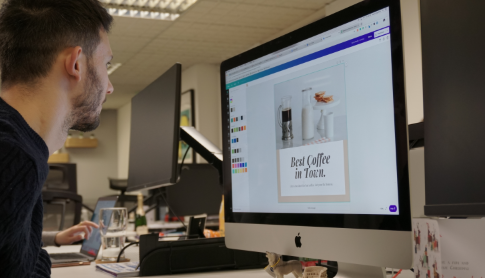 Here's how to use Canva in five simple steps:
1. Create your design
2. Select a background image
3. Choose a filter and text
4. Upload your logo
5. Download your image
To sign up to Canva for free and start creating bold and beautiful graphics for your digital signage today, click here.
New to DatabeatOMNI? Click here to book a live demo and find out how you can use digital signage to engage your audience.
Related Read: How to Produce Captivating Content for Digital Signage
Realise your digital signage goals today with OMNIdesign
If you're new to digital signage and need some help getting started, our OMNIdesign service is the ideal solution. Whether you're looking for templates, motion graphics, or a combination of the two, you're guaranteed to find a solution that suits your business' needs and budget.
Our experienced digital designers are on hand and happy to help you ensure your content makes an impact and delivers the right message to your target audience, every time.
When you choose our OMNIdesign service, we create customised digital signage templates, motion graphics, and content for your company to use in its campaigns. All you have to do is select your preferred package and we'll be in touch. To find out more, talk to us.
Did you know that digital signage is a powerful tool to improve ROI? To find out more, click the button below to download our free guide, 'The Definitive Guide to Digital Signage ROI'.