The days at Oslo Congress Center are hectic, with a significant number of events and of course a large number of people attending. We see that the process from checking in, booking and wayfinding are much more streamlined with their new digital signage solution, tailored made for Oslo Congress Center.
In the reception, we meet Clara Moberg, who works as a conference coordinator at Oslo Congress Center. With great enthusiasm, she tells us how the new solution has made her job much more manageable. The new digital signage solution has lifted its digital presence and provided a much better customer experience.
"We want to be portrayed professionally in every aspect, and with a tailored solution from Databeat, we have achieved just that. We can now much easier manage the flow of customers and we can simply guide our customers to the different planned events, without the need for them to ask our staff or to become confused where they need to go," Clara.

Oslo Congress Center is using public displays, in different sizes and brands. From Samsung, they have selected to use 37, 49, and 55-inch screens, from their public display segment. They are classified to be used in a 24/7 setting and has a high brightness level of 700 nits. They also use 86-inch stretched screens from LG, which is a unique model. In the lobby of the conference center, they also have a video wall that consists of LG 86-inch screens. The video wall displays exclusive content that shows the customer experience at the Oslo Congress Center. At every entrance of multiple meeting rooms, they have placed 22-inch screens from Samsung. Those screens are using Databeat doorsign. Doorsign makes it easy to create digital door signage that automatically displays information directly from your Office 365, Microsoft Exchange, or G-suite calendar.

Wayfinding screens
The previous solution that the Oslo Congress Center had did not work together as one. It made it hard for customers to know in which area they need to go or where the event is going to be held. With the new solution, this has now changed. All the wayfinding public displays are linked with each other, it has also changed the dynamic and the flow of customers, which has become much better.
"This is a dream scenario for us at Oslo Congress Center. Now we can enter the event and meetings information into DatabeatOMNI. We can schedule when and where the meeting or event will be in the conference center, with DatabeatOMNI there are many possibilities says", Clara.
Want to learn more about the DatabeatOMNI functions and widgets?
Furthermore, Clara says, "it's advanced but easy to use. The most important thing about linking the screens together is to show the way for customers to the events, meetings, and common areas. The attendees now get the information where they need to go at what time. With the wayfinding screens, we have a more manageable process with the flow of communication. A great feature of the meeting room screens is that they have an LED light - when red the meeting room is occupied and green when the room is available"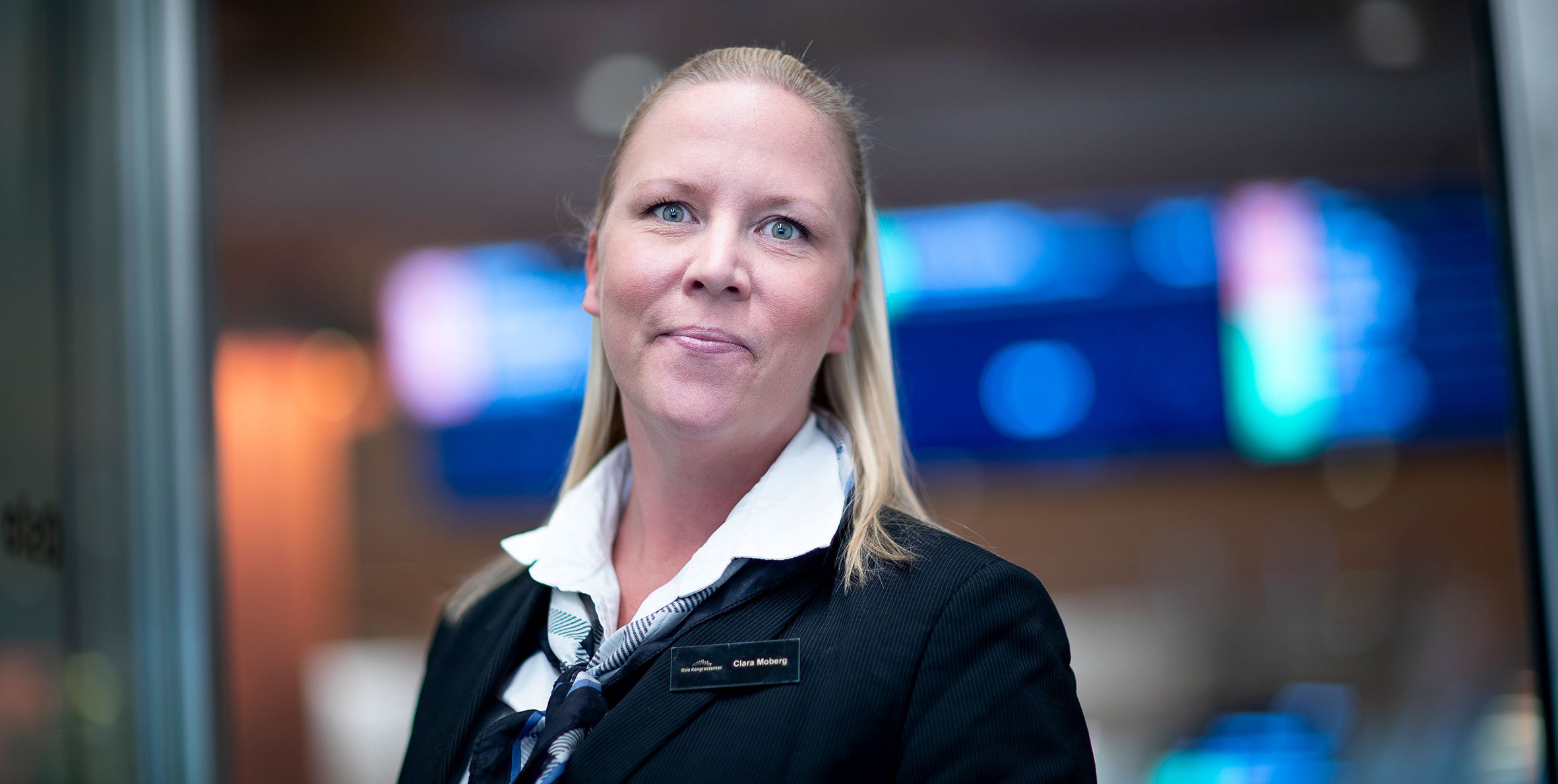 "There are many conference and meeting rooms. When a customer is going from a meeting room to another event such as a gala dinner, they will need to find it easily. We use the digital clock widget, which we drag and drop in ScreenDesigner in DatabeatOMNI, and it displays right away on the screens. It's much more visible for the customer so that they can keep track of the time when they are attending events", says Clara
"Maybe it's a cliche to say this, but we have for a long time dreamt for a solution like this. We thought that this is technically impossible, but with the help of Databeat, we have made it possible. We are pleased with the new solution. This has made our job much more manageable,", says Clara and smiles.
When changes need to happen fast
Clara tells us that the advantage of DatabeatOMNI is that it's easy to use. Here are Oslo Congress Center changes are frequent. Maybe a speaker is late for the event because of traffic, or an event is canceled. With DatabeatOMNI, we can make changes to the schedule quickly and easily, and that is displayed right away on the screens.
"We spend less time on making changes than before. Another reason why DatabeatOMNI has made my job easier is that it web-based. I can log into DatabeatOMNI from home and make any changes that are needed at the conference center. Having the opportunity to publish from anywhere is fantastic. The screens have made Oslo Congress Center a more vibrant and dynamic place to be. The video wall has also given us a much more digital presence towards our customers aswell,", says Clara.
Are you interested in getting a live demo of DatabeatOMNI? Book your demo now
The user-interface in DatabeatOMNI is so easy that I did not need any onboarding nor training to get started. The whole solution is very user-friendly. I upload content and schedule events for weeks ahead, and with the time management feature, I can set the time for when the content needs to be shown on the screens and when not to. The events and meetings that have passed are not shown on the screens. Many things have made our job more comfortable to do. The fact that such easy to use solution has solved a very complicated problem for us is just merely amazing", says Clara.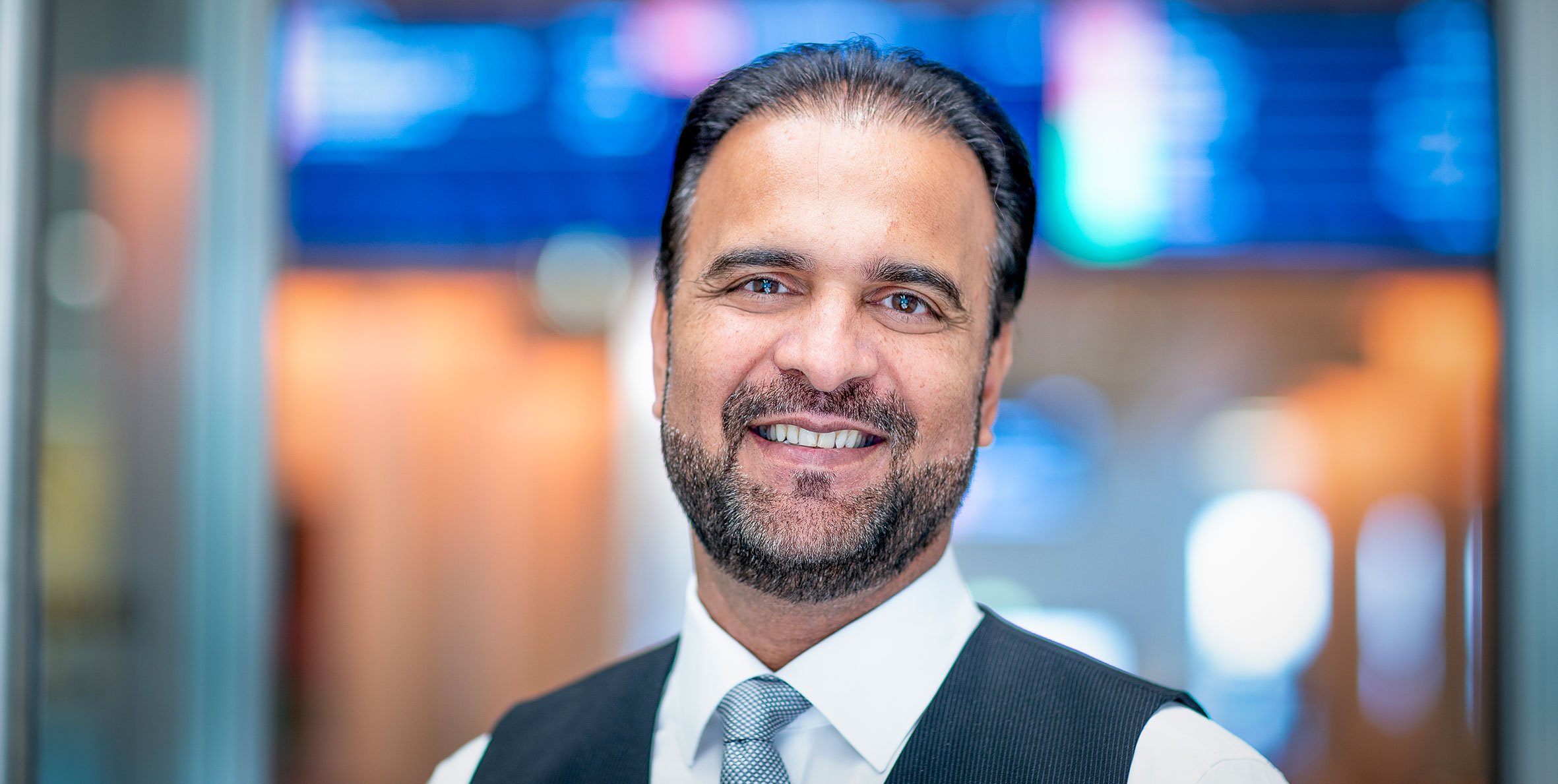 Ishfaq Ahmad, Conference manager says
"Running a sizeable conference center as Oslo Congress Center means that we have special needs, in terms of presence to guide our customers from event to event, or meeting to meeting. With as high occupancy as we have during the year, and with many different rooms and activities as well as dining areas, we experienced many challenges in getting the digital signage solution adequately adapted to our needs. We have now achieved this with DatabeatOMNI."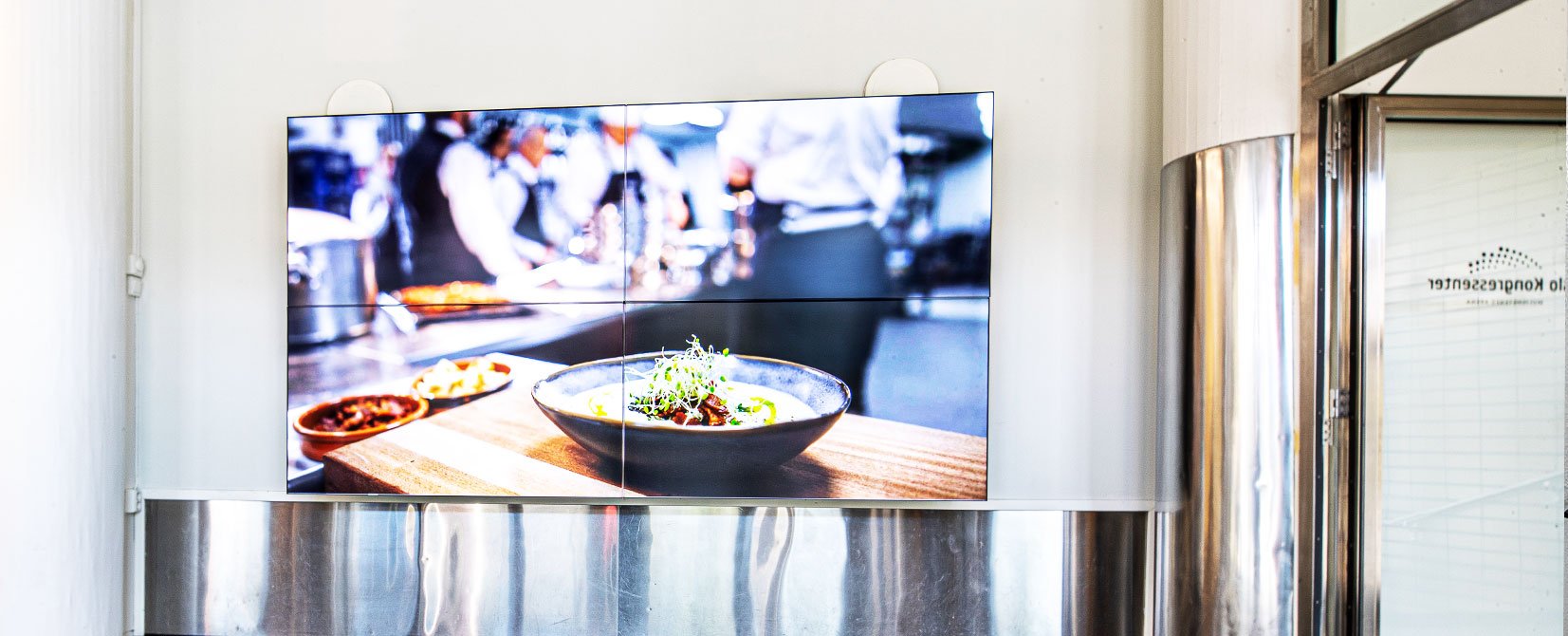 In the lobby, towards the street level, the Oslo Congress Center has a video wall that displays a high-end video of the user experience at the conference center. Its also a great advertising tool and in return catches the attention of bypassers.
Here is a summary on how the Oslo Congress Center utilizes DatabeatOMNI
Digital signage for wayfinding.
Databeat Doorsign for meeting rooms.
Screen designer and widgets
Videowall
Are you interested in getting started with digital signage? Talk to one of our solutions experts.
Databeat partner
Thanks to our partner Mediakonsulenten, Terje Jørgensen, for sales and good follow-up of the Oslo Congress Center.
Struggling to attract attention? Discover how screen publishing can draw customers to your business: