Sport 1 Snø - promises to deliver snow and temperatures below freezing throughout the year - right outside their stores. With highly competent employees, a selection of the hottest brands on the market, and a great ski rental-program and you might just have the coolest store for sporting goods in all of Norway.
Sport 1 Snow is located at the new ski facility SNØ located in Lørenskog, in the outskirts of Oslo,
and there you can come to ski, both alpine and cross-country, all year around even in the summer.

I met with Marius Wiik, who is the head of store planning and support, and responsible for the digital signage solution at Sport 1.
- Why DatabeatOMNI
"We used another digital signage solution before DatabeatOMNI, and that was both expensive and difficult to use. This was the starting point for us to become more proactive and to find the other system that fits our needs and that is cost-effective. We began looking at other software providers in the market.
After several meetings with Databeat, there was no doubt that DatabeatOMNI was the best solution out there. We have now access to many more features that we can use, as well as create and schedule content depending on our campaigns. We can manage everything from HQ to all our stores nationwide", says Marius

"Currently, we have 220 stores in Sport 1 chain, of which 18 are Anton Sport, and 15 are Löplabbet."
"Each store can now create and manage their content. So it was important to us that the software should have an easy and simple user interface. With DatabeatOMNI we have found a simple digital signage solution", says Marius
- How does Sport 1 use DatabeatOMNI?
"We have created channels that we share with all stores. Here we publish and schedule content for campaigns, that runs from Friday to Monday, and we can set the exact time for when the content is to be displayed on the screens. We also have the opportunity to add previously used content and re-use it whenever we want for other campaigns. This eliminates much extra work and saves time." - says Marius
Marius also mentions - "Our concept is that we want all the stores to have at least a 55" public displays behind the checkout area. We want the screens to be visible from all sides of the store, and this way we can show the in-store audience upselling messages and discounts.
"Several stores have more than just one screen. In the modern retail store, digital signage is a must-have. Screens that are scattered around the store that shows dynamic content with different messaging are very important for the overall customer experience. We have a lot of content that we want to show to our customers. This cannot be done with lightboxes because the cost would be astronomical, and that is why we prefer DatabeatOMNI" says Marius with a smile.
The Sport 1 store at Snø ski facility has three floors, and inside the premises, there are separate stands for each supplier, in each unit, there is a 55 "public display screen that shows animations and videos showing the specific products in use.
This allows the customer to see the product in action, and creates curiosity. In the middle of the alpine department, there is a batch of 4 screens showing content. This gives a jumbotron feeling, which creates the attention that we wanted to generate.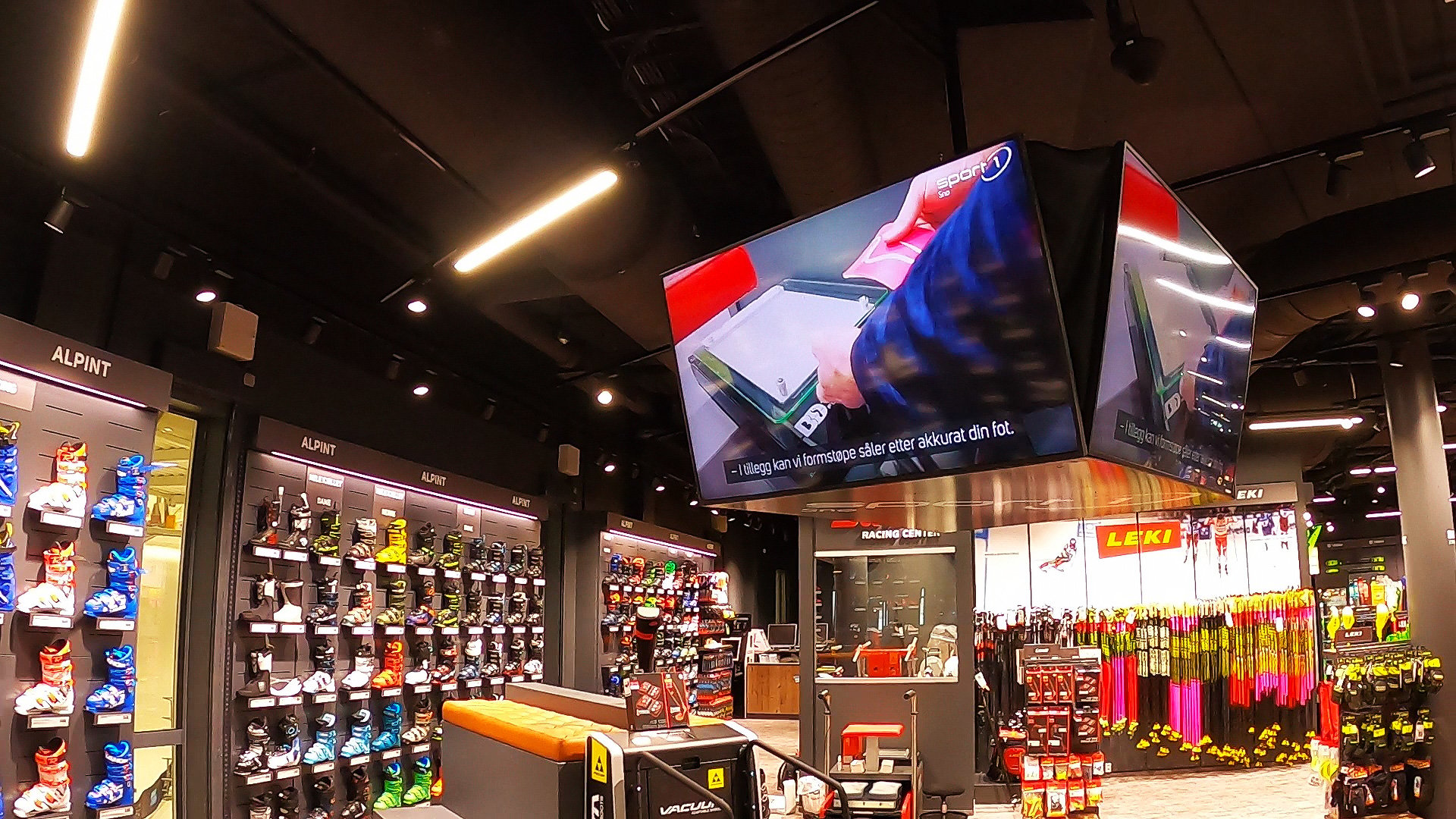 "In the alpine department, Sport 1 uses digital signage to inform customers, as they need more professional input and advice from our staff."
Furthermore, Marius says: "these four screens are put together in the ceiling shows the same content wherever you are in the alpine department. This way, you can display information on services such as boot-fitting and other alpine-related information that adds value wherever they are in the store. Here the screens can also be a practical guide that can help customers to make better choices. We need to show customers valuable information about the products that we sell."
Out towards the street level in other stores, we have high-brightness LED screens, because of direct sunlight. We also have this here at Sport 1 Snø even though it's indoors - the reason for that is because these type of screens has many more pixels.
With DatabeatOMNI we have the ability to automatically turn on/off the screens depending on the opening hours of the store. With this functionality we reduce our overall electricity bill and, we are environmentally conscious at the same time. The window facing display on the street level are on 24/7.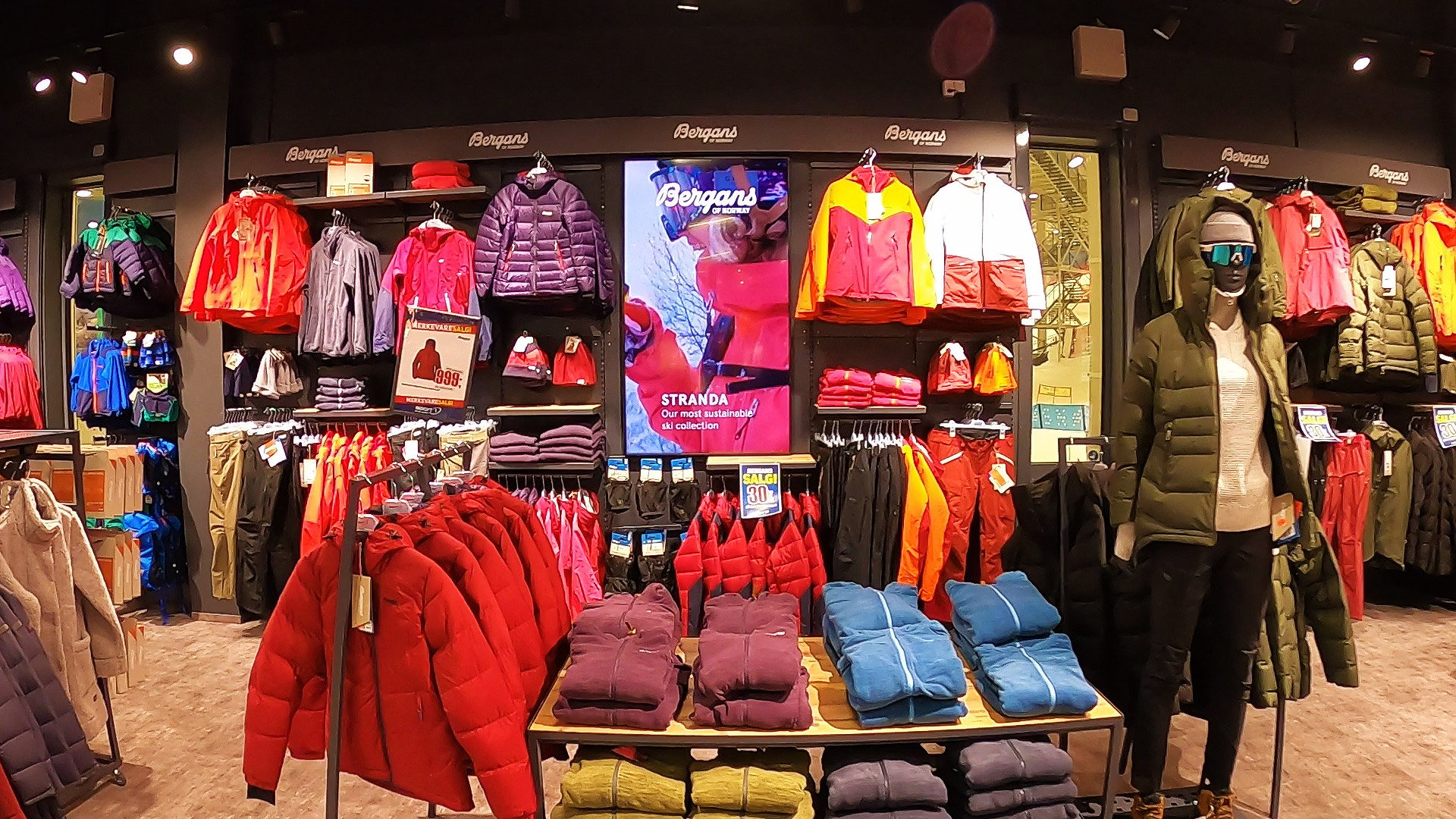 The product suppliers themselves control the content of these strategically placed screens in each store.
- What about our widgets?
We use the logo widget for our Löplabbet brand stores, the logo is always placed in the same space regardless of content. We know that it is possible to view some pictures only when it is snowing or raining and wants to use this feature more actively.
Weather dependent publishing is not relevant for the Sport 1 Snø store because the temperature is constantly at – 4 degrees here", says Marius.
We also thank our partner Prodok, which has done an amazing job on the installation at the SNØ ski facility.