Owner and general manager of the MIX convenience store in Skøyen station, Lasse Larsen, is setting a new trend. He's installed eleven digital displays, all powered by DatabeatOMNI, across his entire store.
Normally, the MIX convenience store chain does not utilize digital signage. However, Lasse Larsen wanted something more when he opened a new MIX store in Skøyen station in Oslo.
"I'm responsible for all the investments made in the convenience store," Lasse told us, "but I'm confident that digital display technology is an investment that pays for itself. It costs less while looking better than printed posters. It is also much easier in terms of maintenance. It takes a minimal amount of time to publish content and I get to decide when to publish it. A printed poster does not offer the same flexibility."
Enticing Passers-by
In the store's window, facing the pedestrian passage, you can see the first of the eleven screens. A beautiful and bright 55-inch display grabs the attention of hungry travellers with pictures of the delicious food and drink on discount inside the store. It also displays various deals and offers, enticing customers to the store.
"For many, this screen is the first impression they have of the MIX Skøyen store. People are in a rush to get through the station so I only have a few seconds to get their attention. I need to show them images and offers that make them stop and come inside the store," Lasse explains.
Lasse cleverly changes what is displayed on this screen depending on the time of day: coffee and breakfast menus in the morning, lunch offers in the middle of the day and grab-and-go hot dogs in the afternoon.
"We have often experienced times when a customer comes in and asks for the deal of the day or the item that is the running on the screen at that moment. There is no doubt in my mind that digital display screens work brilliantly – they grab people's attention and drive traffic to the store."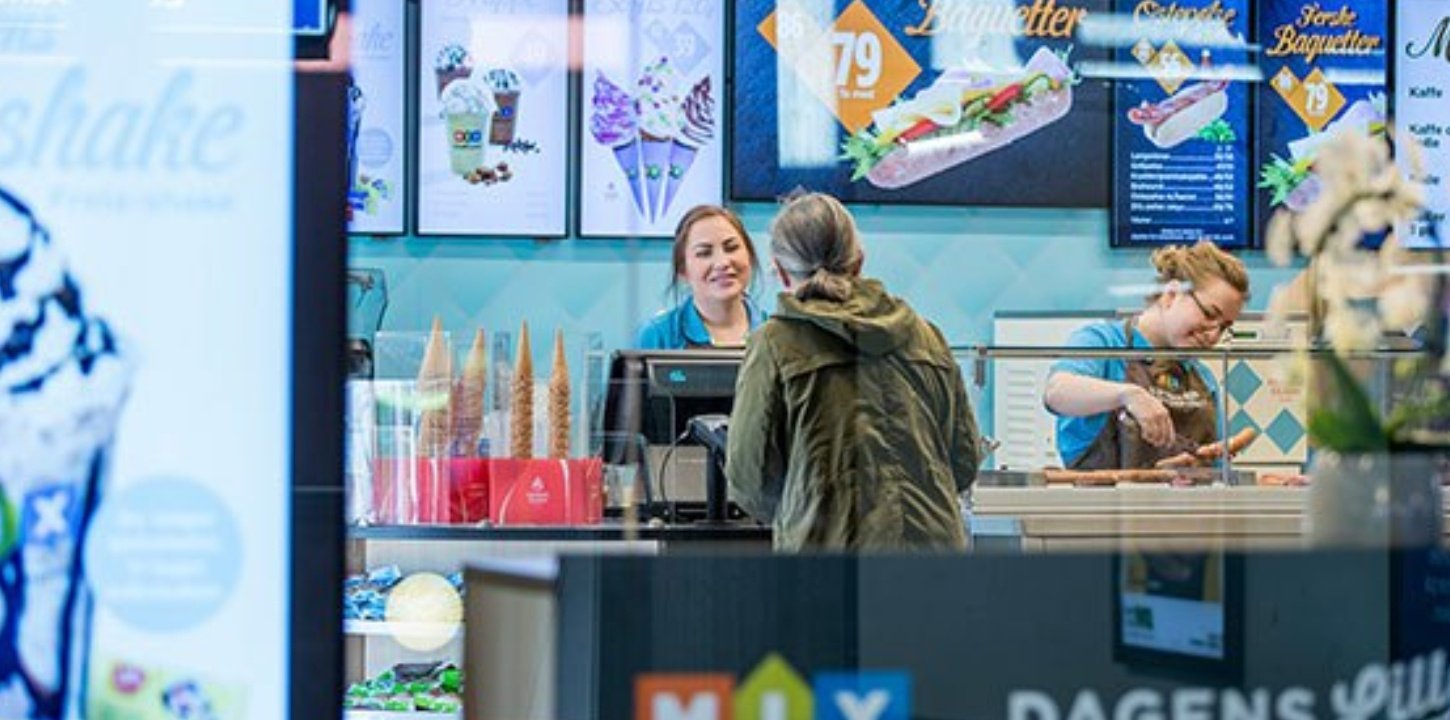 Anyone for Coffee?
Lasse decided to install two displays next to the in-store coffee machine. These screens promote the various coffees on offer as well advertising the tempting pastries and cakes. The content also informs customers of the many promotional prices that are available.
"These two screens function as an attraction to get customers over to the coffee machines and gives them the chance to decide on what to eat while they wait to fill their coffee cups," Lasse says.
Content that Adapts to Context
Behind the till, a series of digital screens hang on the wall. Various content is displayed to provide customers with more information on what treats the store has to offer. But, unlike static posters, these signs can adapt.
"DatabeatOMNI gives us the opportunity to manage the content we display depending on the context," Lasse explains, "On sunny days, we focus more on ice creams, smoothies, and other refreshing beverages. On rainy days, we promote other products like hot coffee.
We can adapt our digital signage based on the weather outside, or the time of day, or particular calendar events – all with just a few clicks in DatabeatOMNI. This would simple not be possible with printed posters."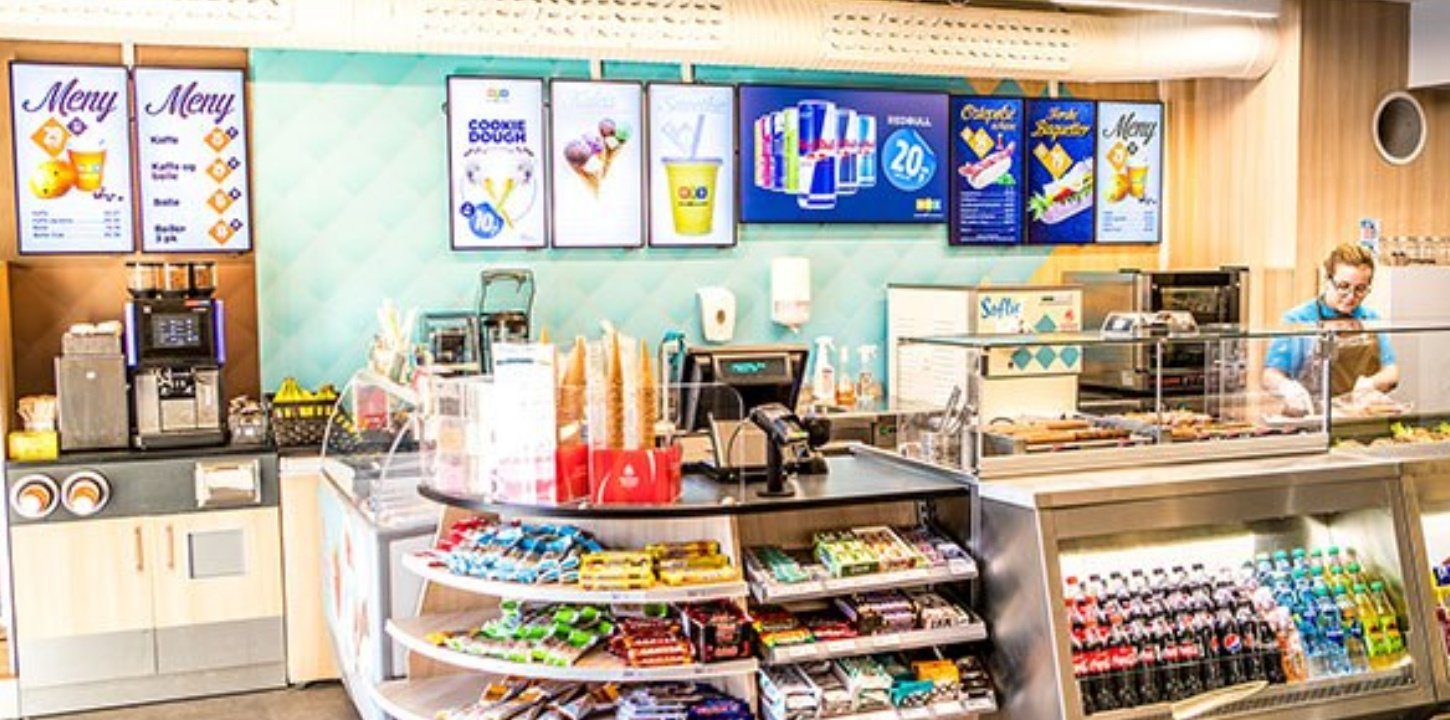 Out with the Old
Lasse has many years of experience in the industry. He has seen many great posters end up in the storage room. Out-of-date posters that promote out-of-date offers are something neither Lasse or his customers see any value in.
"If I were to invest in posters for the store, I would need an awful lot of them. Even if we did go down this road, the fact is that old posters don't generate the same customer interest and customer traffic as our digital signage does," Lasse says.
Besides that, it's also more cost effective. "The marketing department at MIX HQ sends me the content that that is to published. The great thing is that even if there are typos in the material, it's something that can be easily fixed and it costs nothing for them to send it to me. Whenever we need new content from HQ, the time from request to delivery is almost instant. I have no doubt that there are more advantages to using digital signage over printed material."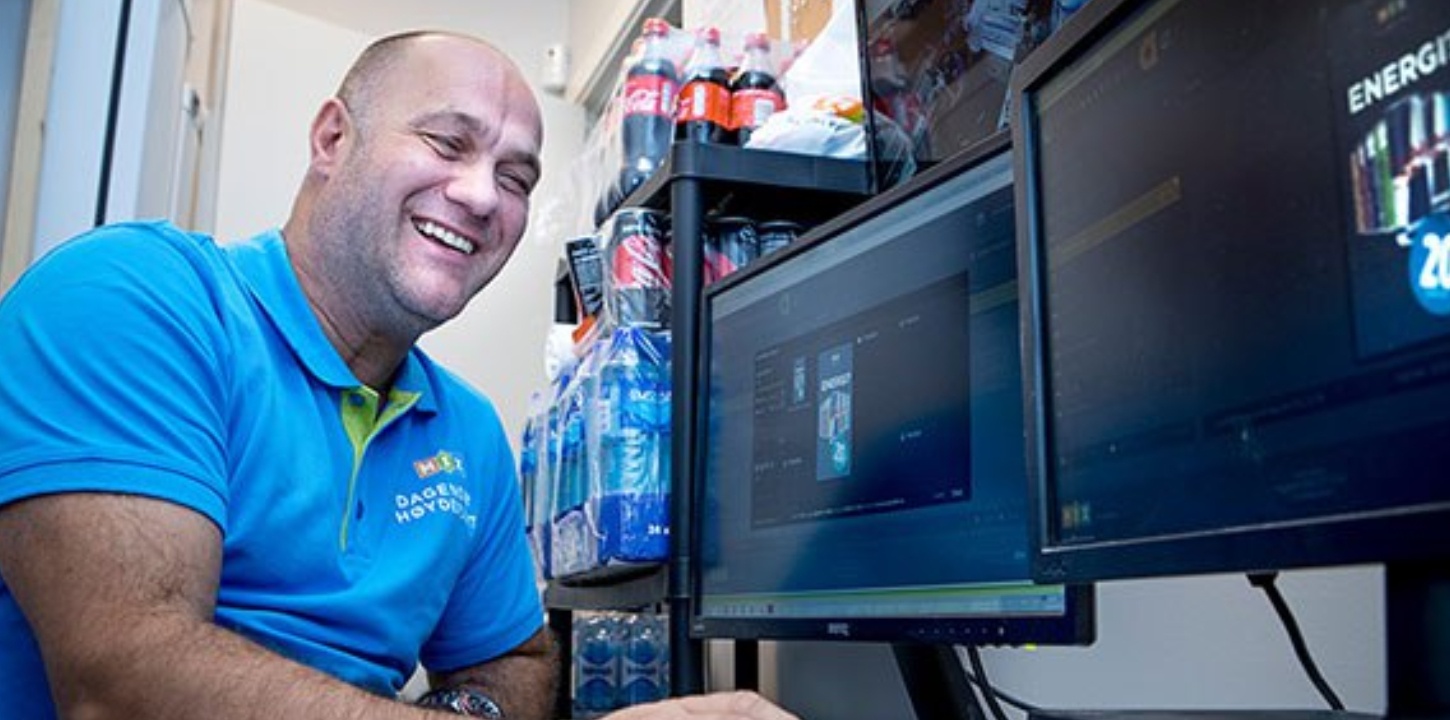 MIX Skøyen opened for business in the summer of 2017. After just a short period, the corporate office came and visited the store because they wanted to see how the digital displays were being put to use. They were so impressed that they decided to reevaluate their entire visual strategy.
Not only were head office inspired by Lasse's use of the screens, but so to were the employees who work for him. Veronica Filipsson and Merethe Stensland, who work at MIX Skøyen, have grown very fond of their new digital displays. "They function very well because they look so good and they're dynamic with ever-changing content. People see posters and just carry on walking by, but with our new screens they stop and come in to purchase," they told us.
Why MIX Skøyen chose info screens with DatabeatOMNI:
Easy to publish and distribute content.
Flexibility – They can change content when they want to.
Automated content depending on weather and season.
Fix typos or mistakes in content.
Functions as a magnet, driving customers into the store.
The screens inspire customers to purchase more once they're in the store.
You've read about how DatabeatOMNI changed the way Lasse in Skøyen does business, now find out for yourself the true power of DatabeatOMNI. Get in touch with us and start your free demo today.