When deciding to invest in digital signage, understanding your projected return on investment is crucial. Read on to discover a typical digital signage cost breakdown.
Introducing digital signage in your organisation can help you sell more products and increase employee productivity. But how do you know if it's cost-effective for your business?
More importantly, how do you measure your return on investment?
The benefits of digital signage vs. print advertising
Despite the initial investment of digital signage screens and software, if implemented correctly, the ROI benefits can significantly offset the cost of missed opportunities to engage your target buyers.
Read on to discover the drawbacks of printed advertisements vs. the advantages of opting for a digital signage solution.
Printed advertisements
The static nature of printed ads means you can only display one advertisement per location. It also means there is no flexibility to easily change content in the event of a printing error, or if the ad becomes outdated.
In addition to this, printed posters rely on transport, people, and physical media at every stage of the process, making it a time-consuming, labour-intensive, and costly solution. Printed ads are also less environmentally-friendly than digital signage due to the number of trees cut, transported, and processed into paper — not to mention the chemicals, inks, solvents, and adhesives used.

Printed posters also have a very short lifetime, contributing to further waste just a few weeks after being displayed. On the other hand, digital signage is a faster, less wasteful, more cost-efficient way to promote your business' products and services.
Try out our Free PowerPoint templates!
Digital signage
The ability to update content seamlessly and at any time is a significant benefit of digital signage, resulting in quick and easy savings from the moment you make the switch. Being able to create and schedule a sequence of messages to play on targeted screens across multiple locations is an additional benefit.
With zero transport and labour required, digital signage removes a significant chunk of the process associated with printed posters — reducing costs, increasing the speed of delivery, and improving overall productivity.
Motion also attracts and retains customers' attention in a way that printed posters simply can't — helping to boost sales, as long as the content is targeting a specific audience.
Although digital signs consume energy, compared to print advertising, digital signage is still more environmentally friendly. As content can be updated digitally at any time, this significantly reduces the amount of waste produced and provides your business with a fast return on investment.
Opting for digital signage over print advertising is not only more efficient, impactful, and environmentally friendly, but it will save you a substantial amount of money in the long-term.
Related Read: 5 Facts You Need to Know Before Investing in Screen Publishing
Digital signage cost breakdown: Retail example
Using a fairly simple calculation, you can compare the total cost of print advertisements vs. digital signage and uncover which investment makes the most financial sense for your business.
To help you apply this calculation to your own business, we have illustrated below using the example of a retailer with a store of 150m² that uses traditional print advertising.
The retailer has five sections in-store, with each section featuring two posters. As the store changes its posters twice a month, it requires four posters per section, per month.
The retailer has an agreement with its printing company that means the cost of an A2 premium poster is £4 including transport. Per annum, the retailer spends around £960 on posters.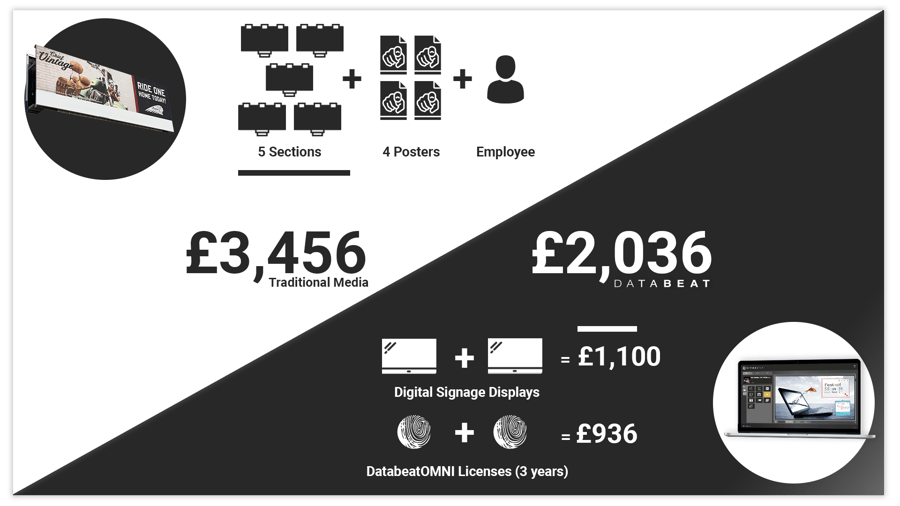 As you can see, although digital signage has a higher upfront investment than traditional print advertising, within three years of using a digital signage solution powered by DatabeatOMNI, the retailer makes an impressive £1,420 saving.
Related Read: 5 Key Considerations for Digital Signage in Retail
Identifying the right solution for your business
At Databeat, we understand it can be a challenge finding the best digital signage solution for your business. That's why we created DatabeatOMNI, which makes it simple for you to plan, schedule, and publish content to screens.
DatabeatOMNI provides you with everything you need to display great content on as many screens as you want to without complex interfaces, specialist training, or additional procurement costs.
Whether you need digital signage for advertising, internal comms, or entertainment, DatabeatOMNI makes it easy. With simple user controls and a single common sense interface, anybody in your business can publish high quality content in seconds.
Keen to learn more about how you can use digital signage to improve ROI? Click the button below to download our free guide.