No matter how small or large your business is, communicating information effectively across teams and departments can be a challenge. Read on to discover how digital signage can transform your internal communications for a more efficient workplace.
The benefits of digital signage are numerous, from promoting the latest offers in retail stores, to bringing digital menu boards to life. However, workplace digital signage can also be a powerful tool, enabling you to bring teams together and unify employees.
From performance dashboards to meeting room signage and everything in between, corporate digital signage solutions can breathe new life into your employee communications.
Here's how:
Visualize key performance metrics using dashboards

Digital signage solutions like DatabeatOMNI enable you to display dashboards across multiple screens and locations, making them ideal for use in the workplace. This allows you to track metrics including sales figures, marketing performance, recently acquired customers, and more.
Microsoft Power BI is a business analytics solution that allows you to visualise your data and share unique insights across your organisation, or embed them into your app or website. With the ability to connect to hundreds of data sources, Power BI enables you to bring your data to life.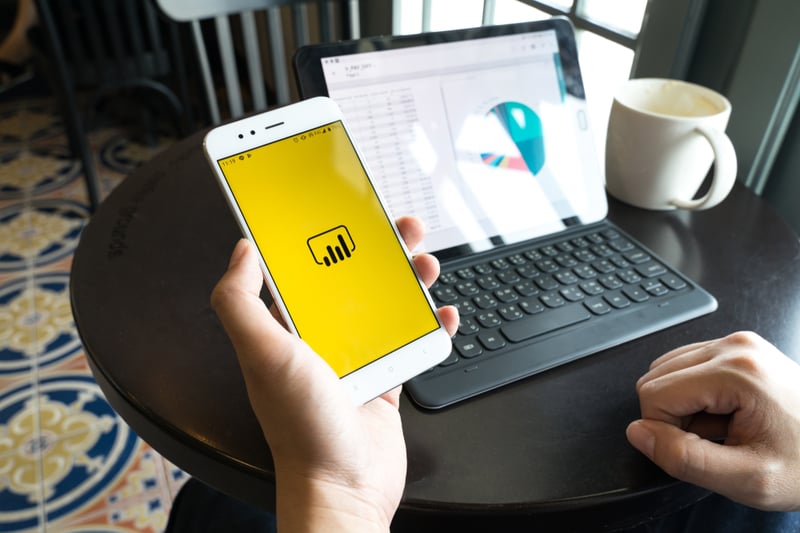 Thanks to DatabeatOMNI's Power BI widget, you can display reports and dashboards directly onto your digital signage screens across multiple office locations with ease. To learn more about Power BI, click here.
While marketing and sales teams can often be found working in silos, displaying information in this way helps to bring teams together and demonstrate how each department relates to one another.
The more collaborative your team is, the more effective their efforts will be, and therefore, the better the results for the company and everybody involved.
Recognize achievements and motivate employees

Everybody wants to be recognized for their achievements at work, whether that's exceeding their monthly sales target or completing a particularly challenging project. Introducing digital signage in the workplace is a great way to recognise these celebratory moments.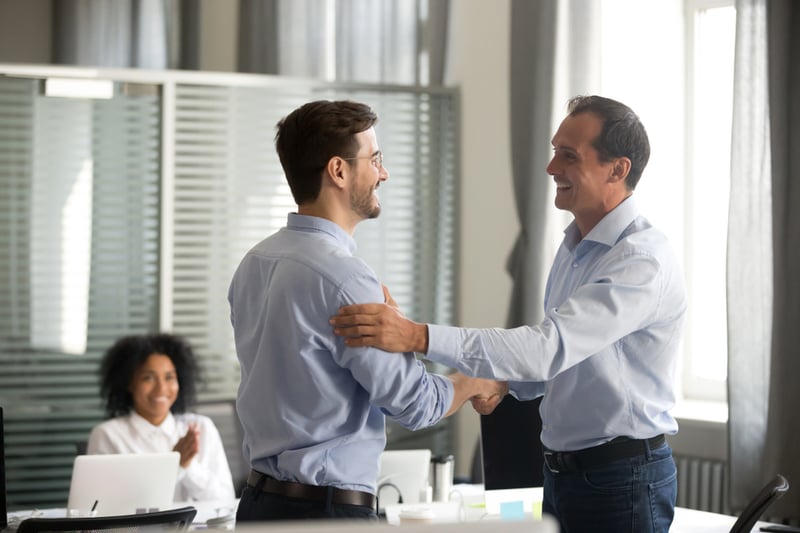 For example, if you have an 'employee of the month' scheme in place at work, you can use digital signage to reveal the winner across multiple locations simultaneously, recognizing that particular staff member's contributions and motivating future performance.
Digital signage is also a valuable tool in the workplace for embracing smaller, but equally as important contributions, such as thanking a colleague for their hard work and positive attitude towards a task, or completing a piece of work early.
Related Read: 5 Reasons Digital Signage is the Future of Internal Communications
Create meeting room signage and manage room bookings

Finally, digital signage can be embraced in the workplace to streamline meetings and avoid double-bookings.
Databeat Doorsign is a cost-effective and simple solution that provides digital signage for meeting rooms, employee offices, and resource allocation. Syncing to your Microsoft Office 365, Exchange Server, or G-Suite Calendar automatically, Doorsign enables you to manage room bookings on the go.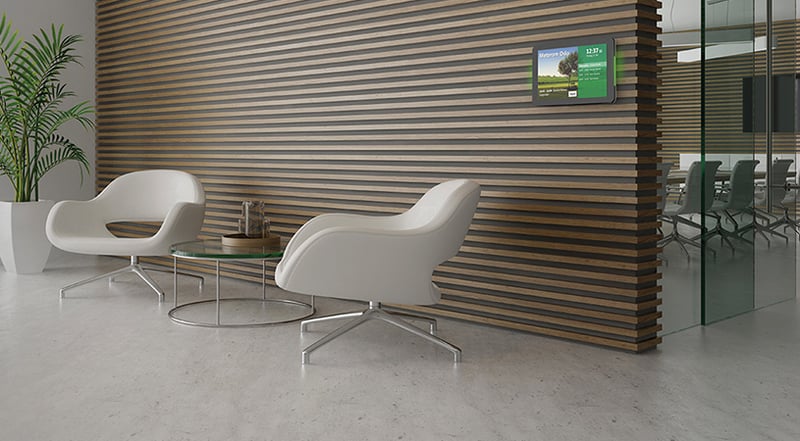 Doorsign is quick to set-up and easy to use, allowing you to increase efficiency at work, avoid frustrating room booking scenarios, and improve team morale.
How Schneider Electric is embracing corporate digital signage

Global leader in energy management, Schneider Electric decided to take advantage of the DatabeatOMNI screen publishing platform to deliver key messages to employees, management, and visitors on 17 screens across eight different offices simultaneously.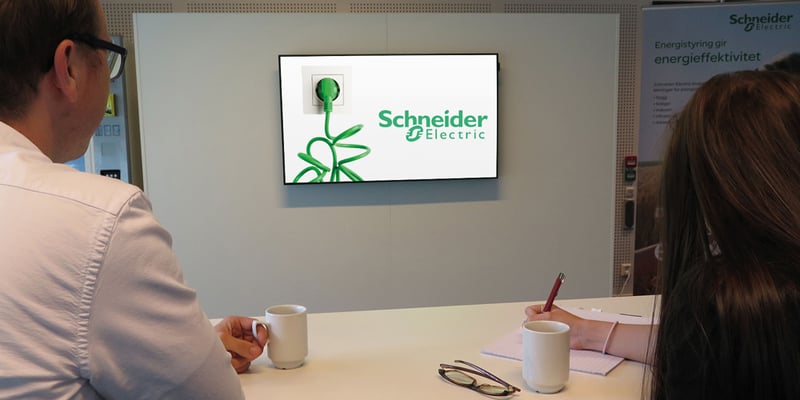 "The DatabeatOMNI screen publishing platform is fast, flexible, and easy to use. We are able to capture the attention of our employees and reach out to more of them than was possible before," says Henrik Holck-Clausen, Schneider Electric's Vice President.
"Our communication strategy is to allow our digital screens to be supplementary to other communication channels. They let us reiterate our key messages in a fun, engaging way," Holck-Clausen adds.
Schneider's use of DatabeatOMNI for internal communications is truly inspiring, and it's clear that digital signage displays are a far more effective solution than traditional means of engaging employees, such as emails.
To learn more about how Schneider Electric is embracing digital signage, click here.
To recap, incorporating digital signage in your organisation can allow you to achieve the following:
Visualise key performance metrics using dashboards
Recognise achievements and motivate employees
Create meeting room signage and manage room bookings on-the-go
It's clear that corporate digital signage solutions boast numerous benefits for businesses. However, finding the right tool to roll out digital signage in your organisation is key.
If you're not comfortable using advanced tools like Microsoft Power BI, you can also create slides in PowerPoint to share data and information across your organisation with ease. Although your data won't be updated in real-time, this is a great workaround if you're short on time.
DatabeatOMNI is easy to set up and features a user-friendly interface, making displaying great content across your business effortless. And with the ability to publish company updates across multiple office locations, your teams will never work in silos again.
To discover how you can use digital signage to share company updates, improve communication internally, and bring your teams together, click below to book a free demo.