Digital signage adds value to businesses across multiple industries, from small businesses to large corporations — and everything in between. Read on to discover five digital signage examples that drive ROI.
With numerous use cases across retail, restaurants, corporate communications, and more, digital signage presents endless opportunities for businesses to promote their brand, products, and services to their target customers.
Crucial to measuring the success of your digital signage is seeing a positive return on investment (ROI).
Here are five digital signage examples that help businesses drive ROI:
1. Cost-efficient retail signage boosts sales to increase ROI

Instead of continuing the costly and time-consuming process of printing, displaying, and refreshing traditional posters, retail managers can now rely on digital signage to create a buzz in their stores.
Retail digital signage boasts numerous benefits for businesses, such as attracting customers, increasing sales, and boosting brand awareness. There are numerous ways that you can implement digital signage in retail, including:
Enticing window displays to increase footfall and capture customers' attention
Video walls to create an immersive brand experience and keep customers engaged
Engaging advertising displays to promote seasonal offers and boost sales
Digital displays to communicate information to staff, such as shift patterns

By investing in digital signage upfront, businesses can expect to save significantly on operational costs in the long-term. The retail store example below helps to illustrate this.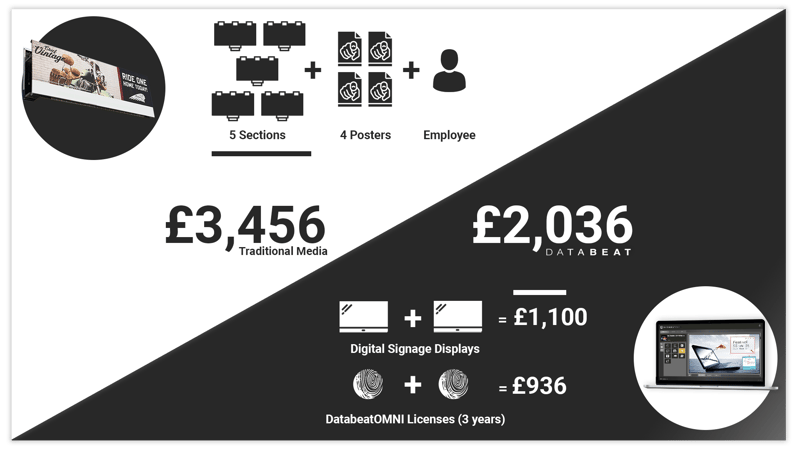 2. Corporate signage improves visibility on key metrics

Introducing digital signage in the workplace is an effective way to monitor employee performance, sales figures, and indeed, ROI. The benefits of digital signage for corporate communications include the ability to share company information, improve communications, and most importantly, bring teams together.
Examples of digital signage for corporate communications include:
Personalised welcome messages to greet visitors and employees
Company news displays to keep employees up-to-date
Results dashboards to display results e.g sales figures to motivate employees
Meeting room signage to create customised displays and streamline room-booking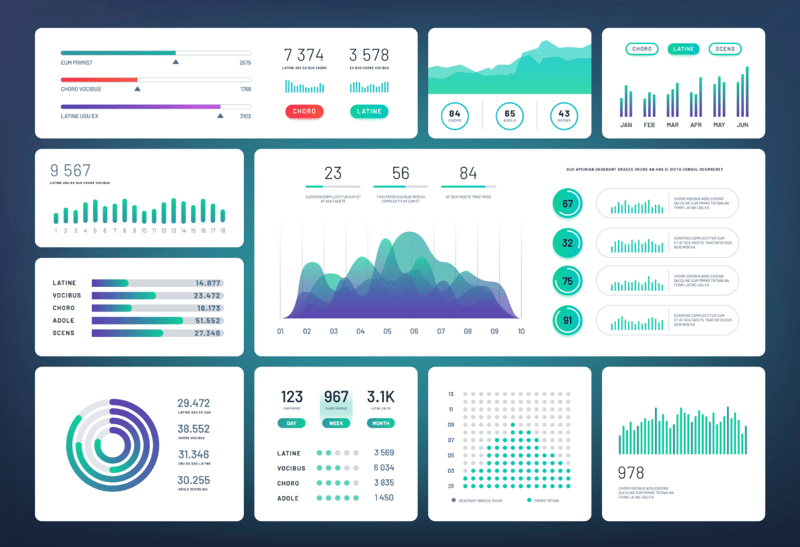 With a digital signage solution like DatabeatOMNI, you can display dynamic dashboards on screens, enabling employees to view the latest figures and performance metrics at a glance.
Related Read: Viken Forest Keeps its Company Connected with Digital Signage


3. Digital displays in education save time and money

Swapping outdated printed posters for digital signage in schools and universities is another great way to increase engagement, ease communication, reduce costs, and improve ROI.
Digital signage in education has multiple benefits for a variety of institutions, such as the ability to welcome students and attendees, publish timetables, and share important information including term dates, exam timetables, and upcoming events to keep students, attendees, and staff informed.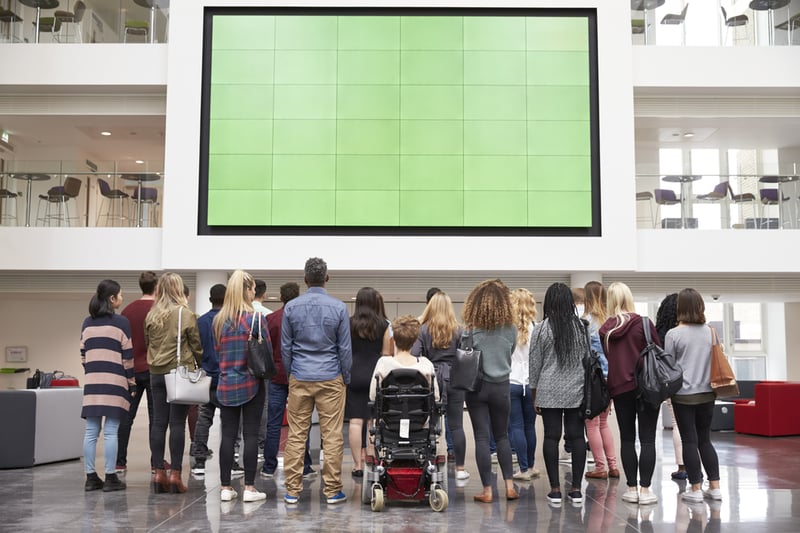 Digital signage examples for education include:
Digital timetables in high-traffic areas to ensure students get to class on time
Cafeteria menu boards to display lunchtime options in a fun and dynamic way
Campus maps in key areas to help students find their way around
Classroom signage to communicate which lessons are happening and when


4. Real-time signage updates boost restaurant sales

Restaurant digital signage can be particularly impactful, highlighting the latest deals, promotions, and seasonal offerings. For example, restaurant digital signage has the ability to bring menus to life, target key conversion points, and promote seasonal offers.
Use cases for digital signage in restaurants include:
Digital menu boards to capture customers' attention at the right place and time
Interactive menu board screens form fast and convenient ordering on the go
Seasonal displays that can be updated with the latest offers in real-time
Standardised branding across multiple locations to create a consistent experience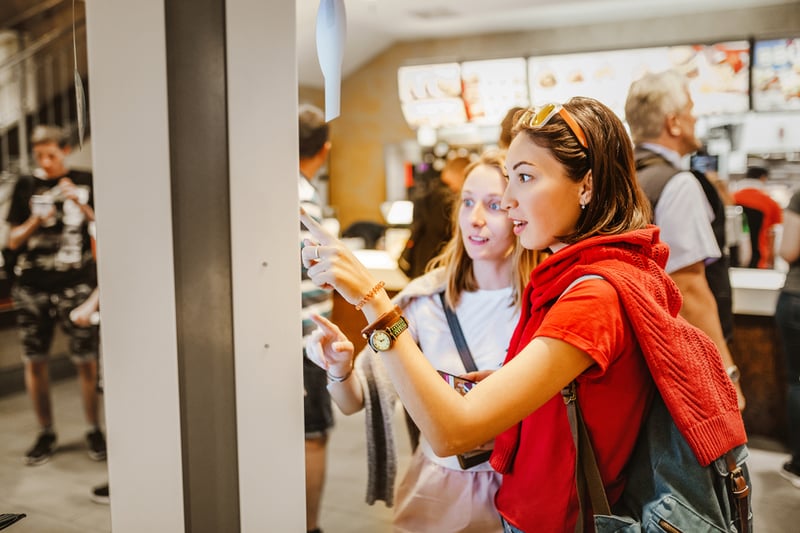 Compared to traditional, printed posters, digital signage is significantly more cost-effective in the long-term — not to mention easier to operate and update in real-time.
Learn how Frich uses restaurant signage to create a consistent customer experience.


5. Hospitality signage promotes deals in high traffic areas

Finally, digital signage in the hospitality industry is an effective way to promote the best deals and services to customers. This could be anything from free breakfast with a hotel room booking, to 20% off hotel spa treatments.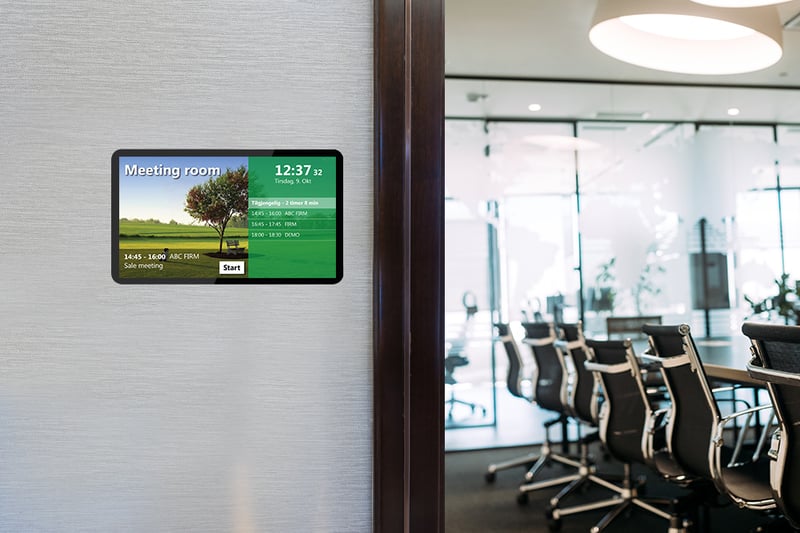 The benefits of digital signage in hospitality include the ability to greet guests, book meeting rooms, and direct customers or attendees to help them find their way around or locate their rooms easily. Here are some examples of hospitality digital signage:
Hotel and healthcare digital signage to greet and welcome visitors on arrival
Interactive touchscreens to encourage self-service and increase engagement
Local map displays to help guests navigate the surrounding area
Digital screens promoting offers and highlighting upcoming events


As these five examples illustrate, digital signage opens up numerous opportunities for companies to promote their brand, products, and services — whether that's in retail, corporate communications, education, restaurants, or hospitality.
What will you achieve using digital signage?
To find out how you can introduce digital signage in your organisation and increase ROI,
click the button below to download our free guide.