Digital signage isn't just great for attracting new customers — it's also an effective tool in the workplace to improve internal communications. Here's why.
Ensuring your teams are aligned boasts a whole host of benefits for your business, including streamlining your service offering, improving your standard of service, and enhancing employees' happiness at work.
However, aligning multiple teams in different locations can be a challenge, especially in larger organisations where teams may even span across countries. But with a digital signage solution like DatabeatOMNI or Doorsign in place, it's easy as one, two, three.
Whether you're keen to share news, display dashboards, report on business performance — or a combination of all three — the benefits of digital signage make it an innovative way to bring your workforce together and promoting a more friendly, connected company culture.
How Viken Forest unifies its teams using digital signage
Viken Forest, a Norwegian forestry and logging company, uses digital signage to better communicate with its employees.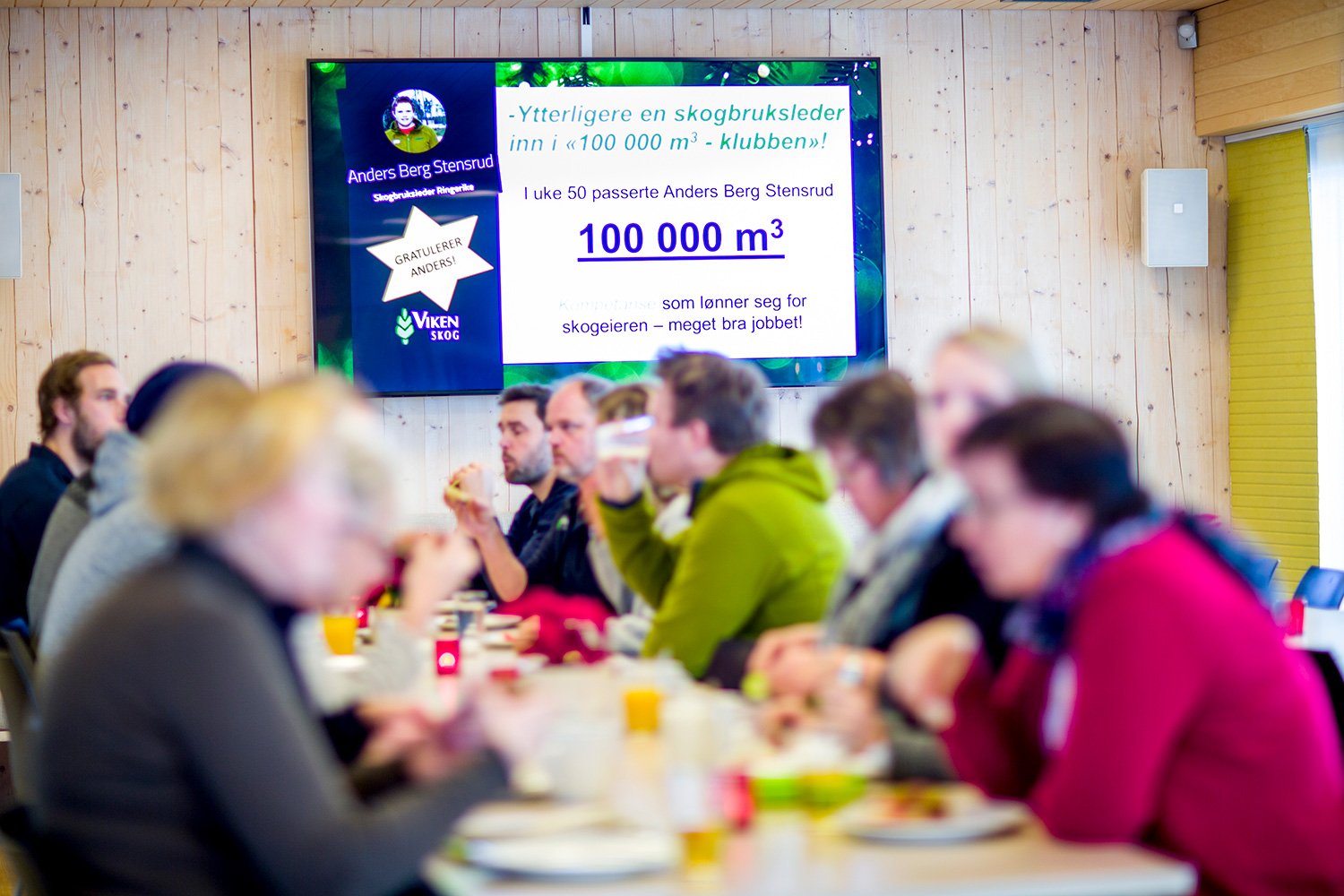 Before introducing digital signage, Viken Forest relied on internal emails to communicate important information to employees. After finding that their email rates were consistently low, they decided to implement DatabeatOMNI for all internal communications. Since then, they've noticed a significant uplift in employee engagement across multiple teams.
Introducing DatabeatOMNI-powered screens to post about social activities and share messages from the MD, information about company trips, and regional sales figures has ultimately enabled Viken Forest to unify the business.
'We are really happy with the DatabeatOMNI application. It's easy to use, yet it has advanced options that fit our needs.' — Helene Rudd, Head of Marketing & Events, Viken Forest

Most importantly, introducing DatabeatOMNI has allowed Viken Forest to close the gap between their teams across multiple offices, bringing the company closer together.Discover 5 reasons digital signage is the future of internal communications today.
How Schneider transformed its internal communications
Schneider Electric, a global leader in energy management, has also embraced the benefits of digital signage to align its teams across multiple office locations.
'DatabeatOMNI is the easiest screen publishing platform to use. I can flexibly produce content whenever it suits me and publish wherever it will have the most impact.' — Hannah Søberg, General Manager, Schneider Norway
Schneider uses digital signage in innovative ways throughout its eight offices, using a total of 17 screens. Upon entering Schneider's Oslo HQ, you are greeted with a screen displaying company news, updates, and their recently launched Schneider Electric app — but that's not all.
As you walk through the building, content is displayed on screens at various locations targeted towards employees — from encouraging them to sign up to social events and conferences, to company information keeping them up-to-date.
Implementing DatabeatOMNI across their eight offices has transformed Schneider's ability to communicate across teams, capturing the attention of more employees than ever before (compared to when they used to send out bulk emails).
As DatabeatOMNI is cloud-based, the Schneider team can access its features from anywhere. Moreover, by integrating the software with Microsoft apps, employees can create content in DatabeatOMNI PowerPoint Publisher and publish their work directly from PowerPoint with ease.
How could DatabeatOMNI unify your teams?
Both Viken Forest and Schneider have demonstrated that digital signage can be a valuable tool to improve communication across multiple teams.
If you're used to relying on traditional ways to communicate with employees and are frustrated by a lack of engagement (such as low email open rates and poor attendance at company events), why not explore the benefits of digital signage?
DatabeatOMNI is quick and easy to use, and because it's cloud-based, you can upload, update, and publish new content from anywhere with an internet connection.
What's more, with the Power BI widget, you can visually display dashboards and reports to share information with multiple teams and stakeholders. And because all your data is stored in Microsoft instead of DatabeatOMNI, you can rest assured that your information is safe and secure. To discover how DatabeatOMNI can enhance your ability to communicate across teams, get in touch.
Interested in learning how DatabeatOMNI enables you to create and publish content on screens with ease? Click below to sign up for a free trial today.