Over the past few years, Databeat has been focused on providing services in the Nordic markets (Norway, Sweden, Denmark, and Finland). Our focus has always been on simplicity when it comes to digital signage — and we are dedicated to making our solution work for both small and large companies alike that wish to use digital signage to reach new and existing audiences.
In 2018, we decided to expand our reach and enter the UK market. Synaxon UK is the leading channel services dealer group. They help IT resellers to buy better, sell more, and reduce costs. They offer a wide range of services as well as personalised account management and business development support to help resellers, retailers, and office product dealers thrive in a market that is changing at a faster pace than ever.
We took part in Synaxon 2019, an event which takes place once a year and brings together around 600 attendees from different spheres in the IT industry all around the UK. This presented the perfect opportunity for us to recruit new partners that are interested in growing their revenue with a new service offering for new and existing customers.
The days leading up to Synaxon
We had prepared a lot for the event — from marketing elements to the physical stand (we always try to make a good impression). Since we have a great relationship with Samsung, for this event we borrowed several screens for our stand. One of these screens is called the 'WOWMAKER'. Here is what it look like: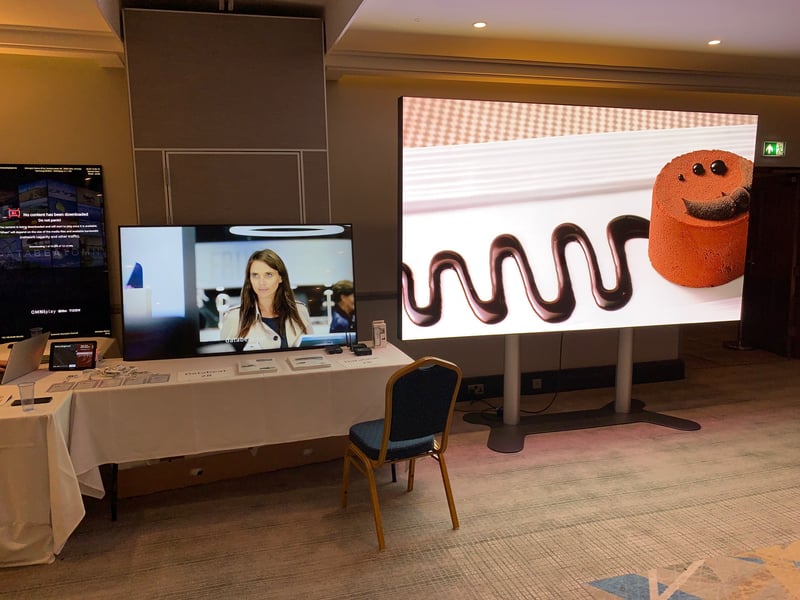 Truls Strackjohann, our partner lead has this to say about the Synaxon event and what it means for Databeat:
"Databeat met the UK at the Synaxon national New Horizons conference in Hinkley, located close to the centre of England. Synaxon is one of UK's leading channel services groups. The format of the conference was a mixture of keynote presentations and breakout sessions, with an emphasis on getting the suppliers closer to new business opportunities.
Databeat was represented by four motivated participants at the conference. Our goal was to recruit new partners for our Databeat UK launch. Databeat was a gold sponsor exhibitor with a great stand and delivered two workshops on how to add value to your service offering with digital signage."
Samsung UK was kind enough to support us with three screens, including their fabulous 130" 'WOWMAKER'.
Synaxon: Days 1 & 2
Synaxon kicked off the event with welcome and keynote speeches from Synaxon, with delegates from both the UK and Germany. Synaxon also introduced a brand new concept for the event. All gold exhibitors had a 1-minute elevator pitch on stage for all the attendees. Joel took the stage for our elevator pitch — hear what he had to say below.
After the elevator pitches, the attendees began to roam around and speak to the different vendors and exhibitors. We had a lot of visitors at the stand who were very interested in hearing more about how they could add DatabeatOMNI to their existing service offering. We discussed the latest trends in digital signage and explained our focus on simplicity.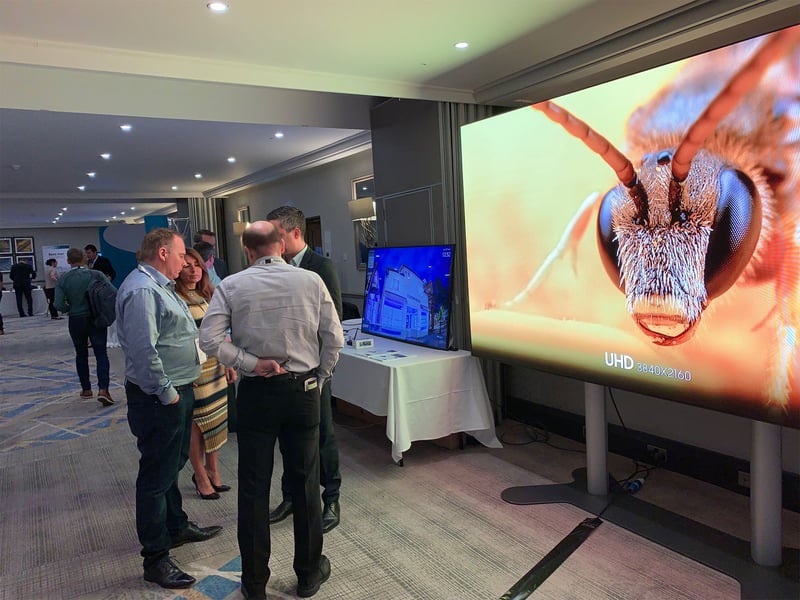 Synaxon made it possible for attendees to register for workshops, where vendors could present and have more in-depth conversations about their offering and partner programmes with the registrants.
We had a successful workshop with attendees who were looking to add DatabeatOMNI to their product portfolio.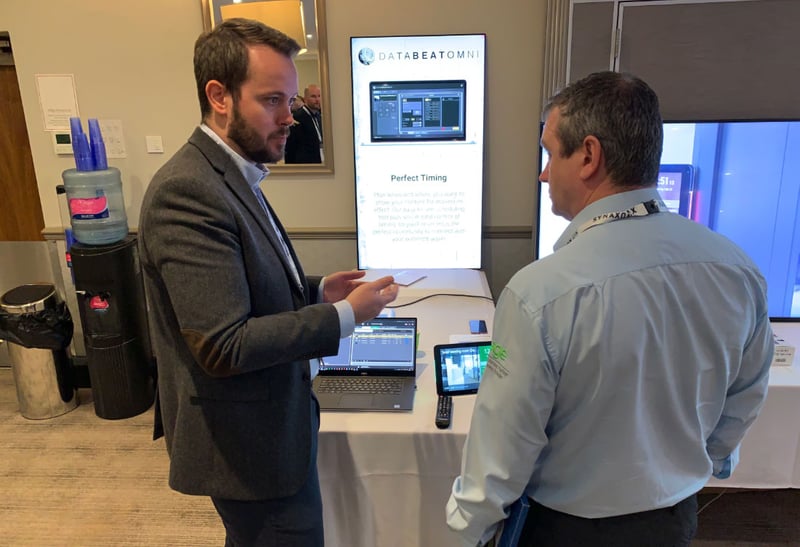 Truls also had this to say about the first day: "This is our first time at a Synaxon event, and we were really surprised by the amount of interest shown. All the attendees we spoke to were really interested in our approach of simplicity and the DatabeatOMNI product itself. With smaller margins and increased competition, attendees were looking to add new products and services to provide further value to their customers. Feedback from potential partners was that Databeat offered exactly that."
In the evening, dinner and networking were on the agenda, where we continued our conversations. The second day of the event was set up almost the same, although less hectic. Here we had some great follow-up conversations.
Moving forward
We will continue to move forward and establish ourselves in the UK as we believe all businesses should have the opportunity to use digital signage. With multiple use cases depending on the business and industry, from internal communications to entertainment, the opportunities digital signage presents are endless.